Recent Entries
Finding a Way out of Emotional Abuse
Tuesday, December 06, 2011
In her breakthrough book, The Emotionally Abusive Relationship, Beverly Engel, one of the worldds leading experts on the subject of 'emotional abuse' defines what it is and what to do about it.
Parenting and Anger
Wednesday, May 04, 2011
Anger is a natural response to the stressors and challenges of life, but mentally healthy individuals are able to channel their anger while moving forward to resolve conflict without hurting others.
Helping the Mentally Ill Get Help
Monday, January 17, 2011
Professor Gerald Landsberg says the shooting in Tucson, Arizona, demonstrates again that mental health systems in the US are seriously flawed.
TOPIC: Behavior
What About All This Stuff?
by Dr. Mike Atwater - Thursday, January 12, 2012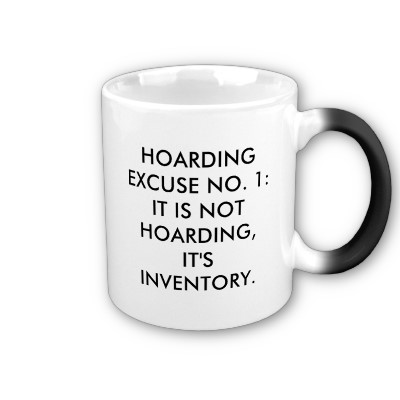 What About All This Stuff?
It's that time of year to find a place in our homes and closets for the gifts we received or purchased over the holidays. That usually requires making space by cleaning out and giving away other things. But for some 1 to 2 percent of the U.S. population who suffers from compulsive hoarding syndrome this is an impossible task.
According to Gail Steketee, a professor of social work and a clinical researcher at Boston University, who has been looking at compulsive hoarding since the early 1990s with Randy Frost, a psychology professor at Smith College in Massachusetts "mild" hoarding begins around age 18, becomes "moderate" after eight years or so and "extreme" a decade later, around age 35.
In her January 4, 2012 article, Hoarding: How Much Stuff is Too Much?, Mary Mihaly points out we rarely heard about hoarding a decade ago but now this behavior has captured our attention and is the subject of at least three cable television shows and hoarders frequently appear on popular talk shows. "It's because everyone has stuff," says Gail Steketee, Ph.D., author of Stuff: Compulsive Hoarding and the Meaning of Things. "We all have a relationship with our stuff, and we can see ourselves in the issues of hoarders." The social climate, too, encourages Americans to accumulate: "There's a lot of pressure to purchase things, to own things."
In his book, Getting Over OCD: A 10-Step Workbook for Taking Back Your Life, Jonathan S. Abramowitz, PhD offers a 10 step treatment program which is invaluable in the diagnosis and treatment of Obsessive Compulsive Disorders (OCD). This well researched, proven approach has helped many people move beyond the anxiety that has kept them stuck in such behaviors as hoarding among many others.
See below the continuing education course based on Abramowitz's book here at www.GenesisCE.org. The course helps Mental Health Professionals fulfill CE credits and is available for Psychologists, LCSW, LPC, LMFT, LMHC, LSSP and more: approved by APA, ASWB, NBCC, NAADAC and most states for School Psychology.
Related Courses:
Topic Archive: Behavior
Be Resolute-about those Resolutions
Monday, January 03, 2011
Good businesses do a year-end analysis prior to goal setting for the upcoming year, why donnt we?
Keep That Resolution... But Don't Depend on Willpower!
Monday, December 27, 2010
In her Wall Street Journal blog, Sue Shellenbarger interviews behavioral experts, and all agree, donnt depend on willpower to turn resolutions into desired accomplishments.
Is it Hoarding or Collecting?
Monday, December 20, 2010
Jessie Sholl helps answer that question. She is the author of, Dirty Secret: A Daughter Comes Clean About Her Motherrs Compulsive Hoarding.
Introverts and the Holidays
Saturday, December 04, 2010
Parties energize extroverts, but cause a real energy drain on introverts.
Sex Addiction Treatment Field is Booming
Monday, November 29, 2010
The for-profit field of Sex Addiction Treatment appears to be growing exponentially.
Disclaimer
The information contained on GenesisCE.org is for informational and educational purposes only. The data and information on GenesisCE.org is not intended to be a substitute for professional assistance. This website may link to other websites, which are not under the control of GenesisCE.org. We have no control over the content of those sites. The inclusion of any links does not necessarily imply an endorsement of the views expressed within them. Though we make every effort to keep the information up-to-date and correct, we make no representations regarding the accuracy contained on the website. Any reliance on such information is at your own risk.
GenesisCE.org will not be liable for any loss or damage arising out of the use of this website. You may direct questions, comments or reports of incidents to: contactus@genesisce.org Revisions to this website disclaimer may occur without notice. Your use of this site implies your acceptance of the terms this Disclaimer or any modifications.