Recent Entries
What About All This Stuff?
Thursday, January 12, 2012
It's that time of year to find a place in our homes and closets for the gifts we received or purchased over the holidays. That usually requires making space by cleaning out and giving away other things. But for some 1 to 2 percent of the U.S. population who suffers from compulsive hoarding syndrome this is an impossible task.
Parenting and Anger
Wednesday, May 04, 2011
Anger is a natural response to the stressors and challenges of life, but mentally healthy individuals are able to channel their anger while moving forward to resolve conflict without hurting others.
Helping the Mentally Ill Get Help
Monday, January 17, 2011
Professor Gerald Landsberg says the shooting in Tucson, Arizona, demonstrates again that mental health systems in the US are seriously flawed.
MOST RECENT ENTRY: Finding a Way out of Emotional Abuse
by Dr. Mike Atwater - Tuesday, December 06, 2011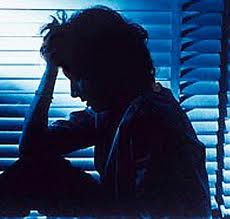 As of 1996[update], there were no consensus definitions about emotional abuse. Thus, clinicians and researchers have sometimes offered divergent definitions of emotional abuse. However, the widely used Conflict Tactics Scale measures roughly twenty distinct acts of "psychological aggression" in three different categories: verbal aggression, dominant behaviors and jealous behaviors.
The U.S. Department of Justice defines emotionally abusive traits as including causing fear by intimidation, threatening physical harm to self, partner, children, or partner's family or friends, destruction of pets and property, forcing isolation from family, friends, or school or work. Several studies have argued that, unlike physical and sexual maltreatment, an isolated incident does not constitute emotional abuse. And Tomison and Tucci write, "Emotional abuse is characterized by a climate or pattern of behavior(s) occurring over time [...] Thus, 'sustained' and 'repetitive' are the crucial components of any definition of emotional abuse."
In her breakthrough book, The Emotionally Abusive Relationship, Beverly Engel, one of the world's leading experts on the subject of 'emotional abuse' defines what it is and what to do about it. The text will help clinicians identify emotional abuse and how to find the roots of the behavior. Combining personal clinical stories with action steps to heal, Engel provides prescriptive strategies that will allow therapists and their clients to work together to stop bringing out the worst in an abusive relationship. Clinicians will be able to recommend this book to clients wrestling with the horrific experience of emotional abuse. See below the continuing education course based on Engel's breakthrough book here at www.GenesisCE.org. The course helps Mental Health Professionals fulfill CE credits and is available for Psychologists, LCSW, LPC, LMFT, LMHC, LSSP and more: approved by APA, ASWB, NBCC, NAADAC and most states for School Psychology.
Related Courses:
Disclaimer
The information contained on GenesisCE.org is for informational and educational purposes only. The data and information on GenesisCE.org is not intended to be a substitute for professional assistance. This website may link to other websites, which are not under the control of GenesisCE.org. We have no control over the content of those sites. The inclusion of any links does not necessarily imply an endorsement of the views expressed within them. Though we make every effort to keep the information up-to-date and correct, we make no representations regarding the accuracy contained on the website. Any reliance on such information is at your own risk.
GenesisCE.org will not be liable for any loss or damage arising out of the use of this website. You may direct questions, comments or reports of incidents to: contactus@genesisce.org Revisions to this website disclaimer may occur without notice. Your use of this site implies your acceptance of the terms this Disclaimer or any modifications.